Evil Geniuses, KGB Agents, and Bikini Girls in the Victoria & Albert Museum This October 31st!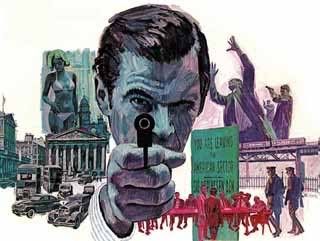 h/t the
Copplestone Castings
mailing list
Nick Lund and I are getting very arty and doing a demo of the Kiss Kiss Bang Bang game at London`s Victoria and Albert Museum on 31st October as part of the Cold War Modern Exhibition.

Before then there will be lots more KKBB miniatures and scenery – Evil Geniuses (including Robo-Fuhrer), KGB men, Rogue Agents, Bikini Girls, Guards in Hats, missile silo equipment and all the doorways (from blast doors to vaults) you could ever want - and new packs from Artizan too.

http://www.copplestonecastings.co.uk/range.php?range=KKB
http://www.artizandesigns.com/catalogue.asp?sub_range=25

At the V&A we'll be playing two scenarios for our DIY boardgame:

MY MISSILE`S BIGGER THAN YOURS

A top secret US nuclear missile silo has been seized by the Evil Genius Obermass and his boiler-suited minions. Unless he is paid $1,000,000 he will use it to obliterate an idyllic small town somewhere in America. Whilst schoolchildren practise ducking and covering, a specially selected, racially de-segregated team of US agents has entered the base through a secret entrance known only to the Pentagon – they only have a short time to prevent the launch.

ICH BIN EIN BERLINER (or Carry On Under the Kurfurstendamm)

In a network of dirty and decaying bunkers underneath the Berlin Wall a group of British agents is attempting to smuggle a defecting Soviet general into the British Sector. The British team comprises our 3 top men plus several new recruits (bearing a strong resemblance to members of the Carry On team). Pursuing them is a gang of KGB heavies led by the deadly Kolonel Krepps. But all is not as it seems: the Soviet general is playing a double game. Or is he?

French Connection Friday Late - Cold War Modern

Friday 31 October 2008
18.30–22.00, Throughout the Museum - FREE

Celebrate the mind-expanding visions of the hi-tech sixties. French Connection Friday Late invites you to 'turn on, tune in and drop out' with an evening of music, film, talks, games and happenings devoted to the Cold War Modern exhibition.

http://www.vam.ac.uk/microsites/cold-war-modern/exhibition

Mark Copplestone
Sigue Sigue Sputnik - "Love Missle F-111"