Playbill reports that Qui Nguyen's
She Kills Monsters
, a comedy about us folks who play D&D, will open on November 17 at The Flea Theater.
The play focuses on Agnes who "is finally leaving her childhood home following the death of her totally weird sister, Tilly. When she stumbles upon Tilly's Dungeons & Dragons notebook; however, Agnes embarks on an action-packed adventure to discover more about her sister than she previously cared to know. A octane comedy fraught with hostile faeries, randy ogres, and '90s pop culture."
The Flea will also host a D&D-inspired art exhibit: "Doomslangers," artist Casey Jex Smith's works focusing on a "D&D adventure to save the mythical city of Dingershare from the evil Lord Ricaek."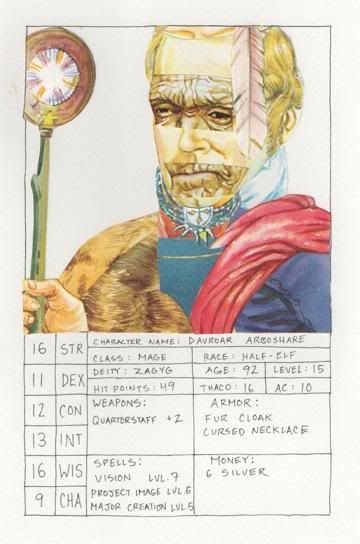 Casey Jex Smith
Davroar Arboshare 2010
For more info, tickets, etc., go to
theflea.org
.
h/t
Playbill.com
Links